Here's where we add to our most valuable resource: our staff.
"I am passionate about the very best of teaching and learning and, as I have said to every single prospective parent that has visited Newton Prep, what sets this school apart is not just the excellence of teaching and the enthusiasm for learning felt by our children, but the wonderful relationships that we see growing every day between our young, committed, imaginative teachers and their pupils. The staff body is our most important resource, of that I have no doubt. If this resonates with you, then please join us!"
Alison Fleming, Headmistress
Current Vacancies:
EYFS Teacher - April 2024
Communications Coordinator
Upper Key Stage 2 Teacher - Fixed-term, full-time from April 2024
For all teaching and teaching support vacancies, please download the Application Form below to apply for the role.
Application Form for all Teaching and Teaching Support Vacancies
If you have any questions, please contact HR Enquiries via our contact form.
Why come to work at Newton?
Newton Prep is a true school of London: multi-cultural, bustling, busy in its quest for excellence and always striving to be ahead of the curve, but it is also a happy place: a community of kindness, of inclusion, of colour and diversity across its 650+ pupils.
We want to attract teachers and administrators who aren't just committed to being the best but also want to join that forward-facing community, want to be at the heart of one of London's most burgeoning cityscapes, are enthusiastic about the opportunities that our children enjoy when it comes to facilities and learning, and excited about working in an environment where pupils, parents and staff alike are happy and engaged.
Generous pay and conditions, fantastic facilities and the chance to work in our colourful capital: these are the starting points for why our staff come to work at Newton Prep. But there's so much more to us than that… which is why we aim to recruit, reward and retain the best.
---
Testimonials: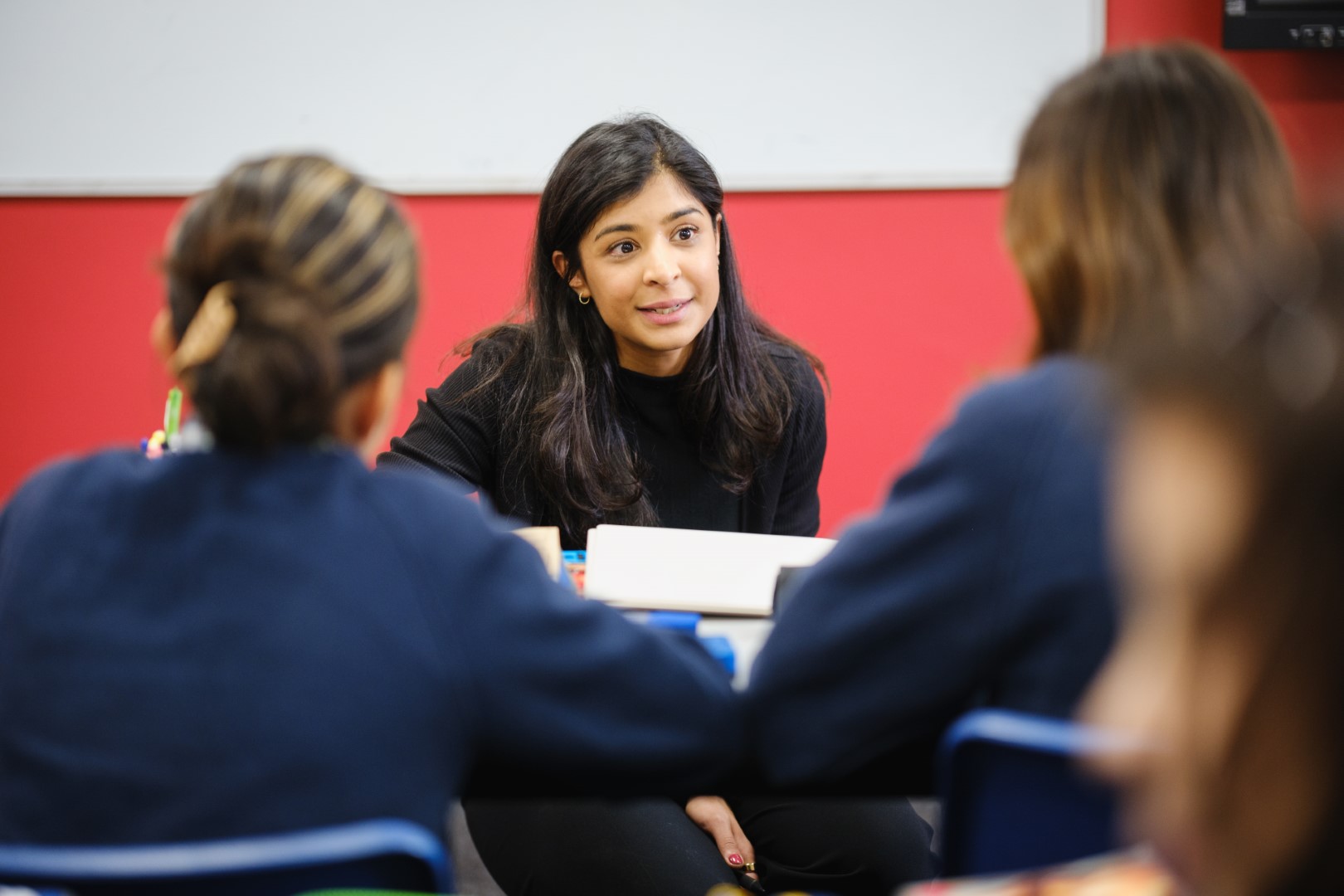 If you would like to know more about what it is like to work at Newton Prep, read what some of our current and former members of staff have to say:
Throughout my 18 years of teaching in a number of schools across London, I have become a big believer in first impressions. Within minutes of walking into a school, you will get a clear sense of the ethos and atmosphere within. I knew straight away that Newton Prep was somewhere that I would be happy to work and a school capable of providing me with the challenge and progress that I desired. Even now I get that same feeling when I walk into school every day. Newton is a large, vibrant, busy and happy school, enriched by a wonderful staff team, fantastic resources and bright pupils. Boasting more space than any prep school I have visited, I was instantly struck by how generous the facilities were and how bright and modern the buildings. I am very proud to be Deputy Head for the Upper School, having led on our exciting new 21st century curriculum, the Newton Prep Diploma.
Tom Quilter, Deputy Head - Upper School
I started teaching at Newton Prep in April 2014. Prior to relocating to London, I had been living in Asia for 12 years, where I was part of a Senior Management Team of a large International School in Hong Kong. I had taken time out of my teaching career to be a full-time mother and was excited about the prospect of returning to work as a class teacher. I was always very passionate about children's learning and I knew that when I looked at Newton Prep, both as a prospective parent and a teacher that the underlying pedagogy was very similar to my own. Newton Prep is a very exciting place to work and I immediately connected with teachers who seemed to have a very similar vision of teaching and learning as my own. The children at Newton Prep are enthusiastic about school, and I was really struck by the energy and pace that was present within the school community. I was welcomed into the school community by members of staff from different departments and I feel very lucky to have worked with such experienced colleagues. I enjoyed the diversity of Newton Prep and the range of opportunities that it has to offer. I feel lucky to have returned to the teaching profession, ensuring my career has come full circle and to a place where I always felt supported by my colleagues and energised by their enthusiasm.
Fran Gowlland, Year 3 Teacher 2014 - 2021
Newton Prep has been an exciting, innovative and vibrant place to work. I joined the English Department in 2011 and haven't looked back. Prior to working here, I taught English and Drama at a large secondary school in North West London. The prospect of being part of the unique prep school environment really appealed to me. I knew it would be varied, interesting and busy, and that continues to motivate and inspire me. I am very grateful that I can teach the subject I love, in an incredibly well resourced department, to bright, inquisitive children who feed off one another's energy. Whether they are engaging in a lively debate, analysing a piece of poetry or quietly enjoying a new book in the library, a real love of learning radiates - which is obviously every teacher's dream!
Newton Prep has provided me with so many experiences and opportunities to develop professionally. I feel privileged to have gained experience as Head of English, to see children achieve places at a range of top senior schools, and to have even worked with a group of students to prepare a performance for the Dalai Lama! More recently, as a new parent, I feel very fortunate to have the opportunity to work part time, utilising and broadening my skill set through running literacy intervention lessons in the SEND department. I think the whole Newton community are proud to be a part of the school, and that makes it a very special place to work.
Caroline Gregory, Year 2 Teacher
I started at Newton Prep in January 2012 as an NQT and from the first day I set foot through the door, I was made to feel part of the community here. The staff guided me through my first year, supporting me and allowing me to observe and swap teaching ideas to help develop my teaching skills; something that is still highly supported and encouraged here. Over the last 10 years, I have had the good fortune to watch the school grow, such as the fabulous new Music Department being built, the Sports facilities improved and 3D Printers being brought into the computing suites. Every day brings fun and excitement, with children keen to learn and participate in many of the activities we offer, especially in the Music Department – choirs, orchestras, bands…. Over the years I've been here, I've been offered opportunities to grow in the profession, including becoming Head of House to promote the House System within Newton Prep, which I have really relished doing. This place has become like a family to me, and I feel very lucky to be a part of such a fabulous community.
Lizzie Davis, Music Teacher & Trips & Visits Co-Ordinator
I have worked as a Teaching Assistant at Newton Prep for 15 years and can honestly say that it is an amazing place to work. I have had the invaluable experience of working within both the Lower and Upper School which has given me insight into how children develop as they progress through the school. Newton Prep provides excellent professional development opportunities for staff and I really appreciated being given the opportunity to graduate with a B.A. in Early Years Studies alongside my work - and for the wonderful support shown me during my maternity leave.
Victoria O'Connell, Teaching Assistant – Lower School